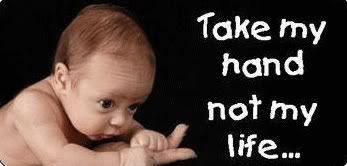 I will start off by saying that I am AGAINST ABORTION in every single aspect, I believe that it is wrong!! If you disagree thats fine, we are all entitled to our own opinions and thats one of the beauties of being a United States citizen.
Abortion is 1. Also called voluntary abortion. the removal of an embryo or fetus from the uterus in order to end a pregnancy.
2. any of various surgical methods for terminating a pregnancy, esp. during the first six months. #
1. Termination of pregnancy and expulsion of an embryo or of a fetus that is incapable of survival.
2. Any of various procedures that result in such termination and expulsion. Also called induced abortion.
I believe that if you are responsible enough to have sexual intercourse then you had better be responsible enough to take on the consequences. I was just 20 whenever I found out I was pregnant with my now 9 month old daughter. Some may say 20 isn't too young to become a mother but I will tell you that I think it is young and that I had so many things that i wanted to accomplish before I had a child. Well, I chose to have sex and as a result I became pregnant. Therefore those plans that i had and those dreams are just put on hold for a few years, about 2, when my daughter is a little bit older I plan on returning to college and persuing my career, fulfill my lifelong dreams and goals. A baby is a true blessing and I wouldn't give up this beautiful angel sitting next to me for anything, and I mean ANYTHING. My husband and I both agree that she is the best thing that has ever happened to both of us and she has only made our lives better. She only makes us want to be more successful so that we can give her exactly what she deserves and those many things that a girls heart desires...... I will be posting poems regarding abortions, why its wrong, and also people who have gotten them but then sadly regretted their decision later on...when its already too late..........